Surrey Police issue Christmas domestic violence warning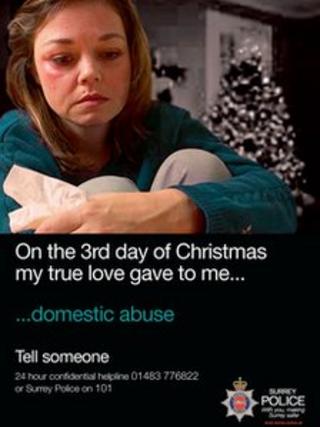 Domestic violence is expected to rise by 15% over the Christmas period, according to Surrey Police.
Over the last three years between 17 December and 4 January there has been an average of 37 reports per day, compared to the year average of 32.
Police say reports of abuse peak on New Year's Day, but believe many incidents on Christmas Day go unreported.
Temporary Det Supt Dave Brookes said it was "distressing to predict" the rise in abuse over Christmas.
He said: "There is nothing more heart-breaking for police officers than attending homes at this time of year and finding children in tears as one adult subjects another to abuse.
'Wide range of abuse'
"We all owe it to these families to do all we can to reduce these incidents.
"It is why I am pleased that more incidents are being reported but distressed that each and every one has occurred."
About 77% of the victims are likely to be female and 23% male.
The force has launched a poster campaign to raise awareness of domestic abuse.
He added: "It is distressing to be able to predict with such certainty that by early in the New Year we will have had many victims suffer from a wide range of domestic abuse."