Tatsfield home of Bucks Fizz star Jay Aston 'shot at'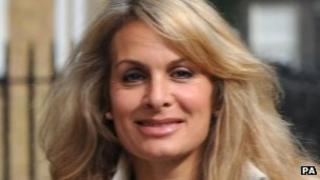 A former member of pop group Bucks Fizz said her home in Surrey was attacked on Tuesday.
Jay Aston, of Tatsfield, believes she was targeted deliberately by someone with an air rifle.
She said: "I do seem to attract bad behaviour, there has been some history, not just me, but on the property."
Surrey police said the incident followed a spate of catapult attacks. They added no projectile or pellet was found in the property.
Sgt Chris Goodman said: "If we see anyone carrying a catapult we will stop them and take robust action if we believe the catapult is being used to commit criminal damage."
Ms Aston, who has an eight-year-old daughter, said that her home was near a site where pheasants were released for shooting.
She said: "I went out to work and I got back and my window had been shot. It was exactly where my dog sits.
"Maybe they were aiming at the dog and they could have hit anyone who was in the hallway.
"I don't know who has done this, but I have a suspicion."
Bucks Fizz won the 1981 Eurovision Song Contest with Making Your Mind Up.