Surrey County Council targets firms in apprentice drive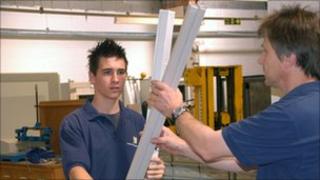 A campaign urging businesses in Surrey to hire one or more apprentices will get under way in the county this month.
Surrey County Council wants to see 200 apprentice places filled in 100 days.
The local authority also said it would continue taking on apprentices at the council where 60 people have been hired in just over two years.
The drive to boost apprenticeships will be launched at a business breakfast at Epsom Racecourse on 27 September, during Surrey Youth Fair.
'Guiding young people'
The council said the target age group for the scheme was 16 to 24, but it was also open to older people.
Council leader Dr Andrew Povey said: "I'm calling for Surrey employers to throw their weight behind this drive and help to guide apprentices into the world of work."
He said the authority wanted to make sure no-one in Surrey was classed as "not in employment, education or training", or Neet, by 2015.
He said the number of Neets in the county was low compared with the national average but the council was not complacent.
Figures from the council said Surrey had less than four in a hundred young people classified as Neet, compared with the national average of more than six in a hundred.