Work to return old A3 road at Hindhead to nature starts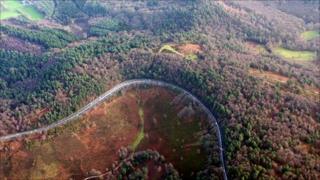 Work has started on a project to return the old A3 road in Surrey to nature following the completion of the £371m Hindhead Tunnel.
The 1.1-mile (1.8km) tunnel, on the London to Portsmouth A3 road at the Devil's Punch Bowl, was opened in July.
The surface of the old A3 was now being broken up or removed, the Highways Agency said.
It will then be covered with sandstone from the tunnel and seeded with grass and heather from the surrounding area.
The work, which is expected to be completed in early 2012, will reunite the Devil's Punch Bowl with Hindhead Common for the first time in almost 200 years.
'Add something back'
Paul Arnold, of the Highways Agency, said: "It's quite satisfying because we're actually restoring something.
"We've taken quite a lot of land to build the tunnel and it's nice to add something back."
Construction began on the twin-bore Hindhead Tunnel in January 2007.
It is one of the longest tunnels in England and is part of a four-mile bypass of the Surrey village of Hindhead.
Traffic had previously been held up at the Hindhead crossroads for years, blighting the lives of people living in and around Hindhead.
An estimated 30,000 vehicles a day are estimated to use the structure.