Surrey cleaner jailed over postman murder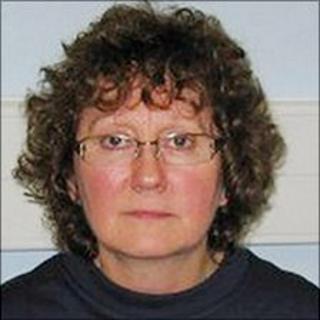 A cleaner from Surrey who beat her 82-year-old companion over the head with a rounders bat before burying him naked in the garden has been jailed for life.
Ann Browning, 54, of Miltons Crescent, Ockford Ridge, Godalming, had admitted murdering Bill Williamson but denied the crime was financially motivated.
She was ordered to serve at least 25 years in jail at Guildford Crown Court.
Browning claimed she killed the retired postman in a fit of temper last September.
At a hearing to determine her motive for the murder, the defence argued the pair were close platonic friends and that she killed Mr Williamson in a fit of anger after he changed his mind about living together.
'Wicked murder'
But the court was told that within days of his death, Browning transferred £140,000 from their joint account into her personal account. The court heard he had an estate of well over £250,000.
Richard Bendall, prosecuting, argued it was "a murder for financial gain".
Judge Christopher Critchlow said Browning had planned the murder.
He said: "I am sure that she did not kill him in a burst of temper in a row.
"Taking all her lies and the cumulative effect of them makes me sure that she did plan his murder.
"The Crown has made me sure that she had planned to kill him, whether to benefit herself alone or to give financial support to others.
"He was a small man and at his age could not resist what she did to him.
"This was therefore a wicked murder of a vulnerable old man done for financial gain."
As Browning was jailed, she sobbed and shouted, and also called to the judge: "May God forgive your soul."
At an earlier hearing, Browning told the court she panicked after realising he was dead and found herself digging a hole in the garden.
She said she stood on Mr Williamson to push his body down and used the spade to shovel soil on him.
'Lovely, sweet man'
Browning said she planned to confess the day after her son's wedding because she did not want to spoil his happiness.
When asked why she transferred the £140,000, she said she was worried the bank was not stable.
She said she was in love with Mr Williamson, describing him as "a lovely, sweet man, gentle and kind".
But the hearing was told she partially dug the hole in advance by enlarging a space where she had dug out the trunk of a tree. The prosecution suggested there was "a degree of planning".
The court also heard she told "elaborate lies" about Mr Williamson's whereabouts after his death and had seen him as a source of cash.
After the sentencing, Det Insp Juliet Parker, from Surrey Police, said: "Mr Williamson was a lonely man whose yearning for companionship sadly led him into the clutches of Ann Browning.
"She is a devious, calculating and callous individual whose greed led to this wicked crime."
She said even when Browning confessed, she still tried to claim her motive for the killing was not financial.
But Det Insp Parker said police proved she had transferred a huge sum of money from his account to hers after the death, and also used his bank card to go shopping in the days and weeks after the murder.