Hindhead Tunnel opens northbound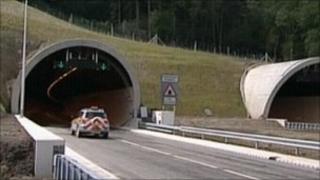 The northbound carriageway of the £371m Hindhead Tunnel at the Devil's Punch Bowl in Surrey has opened to traffic.
The Highways Agency said that following a site meeting at 09:00 BST on Friday the carriageway opened at 11:25 BST.
After construction vehicles were moved away, the first traffic received a police escort through the tunnel.
Southbound traffic began using the 1.1 mile (1.8km) tunnel, on the London-to-Portsmouth A3 on Wednesday.
Transport Secretary Philip Hammond cut the ribbon to officially open the road tunnel, which has taken four and a half years to build.
Highways Agency spokesman said road alignments to allow traffic to enter the northbound tunnel could not be done until the southbound was open.
An access road from the site office also had to be removed.
'Missing link'
Construction began on the twin-bore tunnel in January 2007.
It is one of the longest tunnels in England and is part of a four-mile bypass of the Surrey village of Hindhead.
Mr Hammond said the Hindead Tunnel was one of the missing links in Britain's trunk road network.
Traffic had previously been held up at the Hindhead crossroads for years, blighting the lives of people living in and around Hindhead.
The tunnel, which will be used by an estimated 30,000 vehicles a day, runs under the Devil's Punch Bowl, a large hollow of dry, sandy heath, to the east of Hindhead.
It is expected to cut journeys on the A3 by 20 minutes or more at busy periods.
The old A3 is to be broken up and the land returned to nature, reuniting the Devil's Punch Bowl with Hindhead Common for the first time in almost 200 years.