Surrey Police uses Twitter to help catch car thieves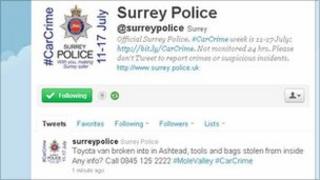 "A number of vehicles broken into. All parked in residential area in Byfleet. Any info?"
Surrey police have turned to Twitter in an attempt to cut car crime in the county by 'tweeting' every time a vehicle is broken into or stolen.
The force's 'Tweet Week' will run until 17 July.
Concerns have been raised the initiative could cause unnecessary worry, but officers have said if it proves successful the force may tweet every 999 call in future.
Ch Supt Gavin Stephens said car crime had fallen by 5.5% last year, but he hoped to reduce it still further.
"If you can get another couple thousand pairs of eyes looking out for a vehicle that may have been stolen, or telling their friends to not leave things on display, then that's going to help us even more," he said.
So far the tweets have included information about vehicles being broken into in Byfleet and Ashtead.
Police also tweeted the theft of a van from Compton and its later discovery by a member of the public.
This interaction was praised by Twitter users.
'Easily prevented'
Bensaint posted: "I think it's a good idea. Shows scale and as long as you publish outcome/success stories then is a good idea."
But others voiced concerns. Crispinheath posted: "Do you think it could create fear because of it's scale?"
Mr Stephens said: "Much of this car crime can be prevented.
"Something like 2,200 bags and purses are stolen from cars each year. Something like 645 sat nav systems [are also stolen].
"Many of these are left on show and these are offences that can be easily prevented if people took sensible precautions.
"Tweet week will raise awareness for people so they can take these sensible precautions."
In October 2010, Greater Manchester Police tweeted all crimes over a 24-hour period.
Surrey Police indicated they may copy this initiative when an officer posted: "This is our first go at this! If it works, and the public like it, we may consider tweeting every 999 call."