Olympic flame to go to Guildford on 2012 torch relay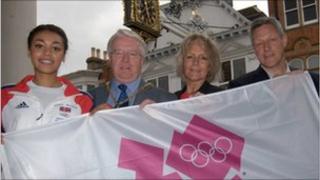 The Olympic flame will be paraded through Guildford before being taken to London for the start of the 2012 Games.
The flame arrives in the UK this time next year and will be taken on an 8,000-mile journey around the UK, including the Surrey town on 20 July.
The torch will travel for about 12 hours a day, and there will be an evening celebration at many locations.
Organisers have said 95% of the population will be within a one-hour journey time of the torch relay.
The Guildford leg of the relay, a week before the Games begin, is the final stop before the torch enters London.
'Something very special'
Denise Saliagopoulos, Surrey County Council's cabinet member for the 2012 Games, said Guildford had "something very special" planned for the day.
"It will be a great spectacle for all Surrey residents to enjoy," she added. "I'm not sure it can get any better than this."
Seventy four locations on the torch relay route - all the overnight and island stops - were announced on Wednesday, with more daytime places to be revealed at a later date.
Its final destination is the Olympic stadium on 27 July when the lighting of the cauldron at the opening ceremony will signify the start of the Games.
Surrey is already hosting next year's cycle race, for which a million spectators are expected to line the route in the county.
The county council has said the cycle race could spark a "gold rush" for local businesses with increased visitor spending, tourism and global exposure to a TV audience of billions, and a potential benefit to Surrey's economy of about £40m.
The cycle route takes cyclists from The Mall in the capital, through west London and then out to Surrey and back. The Surrey section includes a 15.5km (9.6 mile) circuit around Box Hill.
'Who we are'
And next year's torch relay is expected to see many thousands of people celebrate along the route each day, according to the London Organising Committee of the Olympic and Paralympic Games (Locog).
Sebastian Coe, Locog chairman, said the torch relay would showcase the "very best of who we are and where we live".
He said: "The Olympic flame will shine a light right across every nation and region of the UK."
People will be able to nominate potential torch bearers to carry the flame and Locog has said about 8,000 people will be needed.
Farnham resident Linda Kearnes' father, Albert Sibley, was one of the torch bearers ahead of the 1948 London Olympic Games.
She said it was a privilege for her father to carry the flame.