Columbia dive injury man was told he 'would have died'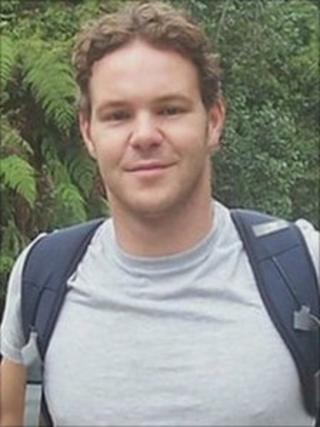 A man who was left paralysed after an accident in Colombia was told he would have died if he had not been flown back to the UK for treatment.
Daniel Eley, from Godalming, Surrey, broke his neck when he hit a submerged rock while diving in a remote part of the country on New Year's Day 2010.
Supporters raised £90,000 to fly him back to the UK by air ambulance.
He told BBC Surrey doctors said he would have died from septicaemia if he had not had his pressure sores treated.
Mr Eley was working as a teacher in Columbia when the accident, which has left him paralysed from the neck down, took place.
His employer's insurance covered general healthcare in the country but did not include the cost of flying him home.
Jungle clinic
He said: "For our Christmas holidays two friends of mine and I went to a place called Leticia which is in the Amazon jungle.
"I dived into a river, a shallow river. A shallow dive, not realising there was a raised sand bump under the surface of the water.
"I broke my neck, I dove in and broke my neck."
Mr Eley said he was first treated for three days in a "hopelessly inadequate" clinic in the jungle before being transferred to a hospital in Bogota.
Mr Eley said: "In the hospital in Columbia, although it was one of the best private hospitals, they didn't know how to treat pressure sores and injuries relating to spinal cord injury.
"So when I arrived at Stoke Mandeville they told me that within maybe a month I probably would have died of septicaemia, because simply they didn't know how to treat pressure sores."
Charity ambition
After surgeons at the Buckinghamshire hospital operated on the sores, he started his rehabilitation and was eventually allowed to move to a specialist home in Godalming.
He said progress was slow but added: "It's really a case of people, who I don't see for a month or two, and they come in say to me: 'Wow, what a difference. You look absolutely amazing'.
"Because I'm living the whole situation I don't really notice much progress. Although I look back to the videos now of when I arrived at Stoke Mandeville and I can't believe how bad I looked, how unhealthy I looked."
Mr Eley said his ambition to start a charity to help street children in Columbia and the support of his family and friends helped spur him on.
He also thanked all the people who helped raise money via a Help Dan Facebook group and a Just Giving website page to bring him home.
"It was really one of those things that completely restores your faith in human nature and makes you realise the kindness of people," Mr Ely said.
A charity concert by a Queen tribute band in aid of his work in Columbia is being held at the University of Surrey Rubix on Thursday.