Call to improve Egham's level crossings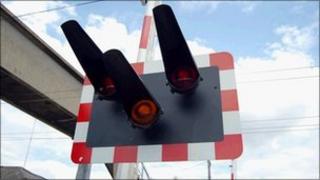 Traders have called for improvements to level crossings in a Surrey town after barriers at two crossings half lowered on two occasions.
Egham Chamber of Commerce said level crossing technology needed to be improved so that barriers did not fail.
Network Rail said in one incident last week, engineers found a gate had been bent out of shape but the warning lights and sirens were still operating.
Last November another barrier failed after a part became dislodged.
Line kept open
Meher Oliaji, from Egham Chamber of Commerce, claimed that people risked their lives by crossing the tracks on foot or in their cars while the barriers were stuck.
She said: "We have three crossings in the town. They are down for about a quarter to a third of every hour and we are told it is for safety reasons.
"So quite frankly, they should invest in making sure the technology doesn't fail."
Network Rail issued a statement which said: "The barriers failed last Thursday and weren't able to lower fully into position.
"The barriers' sirens and lights were working properly so the line was kept open with trains running through at a reduced speed.
"Engineers found that one of the barriers had been damaged with one of its gates being bent out of shape. It is not known how the damage was caused."
Network Rail apologised to people whose journey was affected and said drivers and pedestrians should always heed warning lights and sirens and stop even when barriers were not working.
The rail firm also said that on 8 November at Pooley Green, a barrier became jammed after something became dislodged. It said both barrier failures were isolated incidents.