Conker match world record smashed at RHS Wisley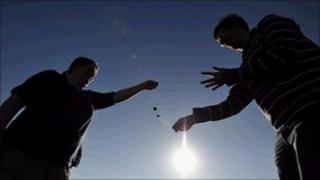 A new world record has been set for the most matches of conkers played at the same time, it has been confirmed.
The results of the "conkerthon" held at the Royal Horticultural Society's garden at Wisley have been confirmed.
The previous record of 197 matches played by 394 people was set by Redland High School for Girls in 2006.
But on 30 October, more than 500 visitors to the RHS in Surrey played 251 matches, setting a new Guinness World Record.
Staff had gathered 1,600 conkers for the attempt on Seven Acres lawn.
'Chestnuts under threat'
RHS Chief Horticultural advisor Guy Barter said: "This is a fantastic achievement. Well done to all of the 'conkerers' who helped to set this new record.
"It clearly shows the great affection with which the common horse chestnut is held."
He said people travelled from all over the south east on the day to take part in the mass conker match which was organised to help highlight the plight of the horse chestnut.
Mr Barter said the trees were under threat from the spread of the chestnut leaf mining moth and chestnut bleeding canker.
He said the RHS first detected the moth in 2002, and work was under way to find a long-term solution.