Snowboarder Emily Watts' death in Chamonix was 'tragic accident'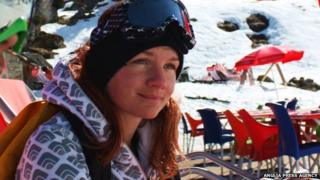 A snowboarder's death in France was described as a "tragic accident" at an inquest which heard she became buried in a mound of snow.
Emily "Mimi" Watts, 26, from Lavenham, Suffolk, suffocated and had a cardiac arrest after falling in Chamonix, in December 2012.
She died in hospital five days later.
The Suffolk Coroner recorded a verdict of accidental death, which was accepted by the family, who described the circumstances as "an utter fluke".
Miss Watts had been in the resort for two weeks and was on a red run in the Grands Montets skiing area just before 16:00 local time on 8 December.
Nobody saw her accident but a skier, who spotted her snowboard sticking out of the snow, could not get her out, even with the help of another skier.
The inquest heard she was buried and unconscious under 30ins (70cm) of snow for about 45 minutes before mountain rescue arrived.
She did not regain consciousness and died in Annecy Hospital on 13 December, from suffocation and cardiac arrest.
Suffolk Coroner Peter Dean said: "It was essentially a tragic accident in deep and fresh snow, which police say gave her very little chance of getting up herself and it was very difficult to get her out.
"There was no evidence of her behaving in a reckless or careless manner."
'Utter fluke'
Speaking after the inquest in Bury St Edmunds, her mother Nicky McAllister said: "You cannot stop your children doing what they want to do.
"We did go back and skied with the chap who found her and went up to the top of Grand Montets and scattered some of her ashes.
"If she thought that I wasn't going to ski any more because of what had happened, she would be terribly cross with me.
"This accident was just a complete and utter fluke."
Miss Watts had been working at a block of flats in Chamonix and planned to set up a clothing design business there.
Her parents have established a charity in her memory called Good Story, which aims to help creative young people turn their ideas into viable business ventures.