Heavy rain causes flooding in Suffolk
27 May 2014

From the section

Suffolk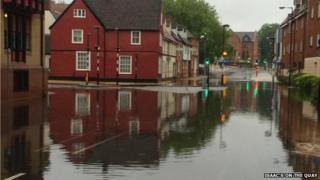 Roads were blocked and cars were stranded after flooding caused by heavy rain in Suffolk.
A vehicle was stuck on the A12 near Woodbridge after rainwater reached up to 6in (15cm) deep in the east of the county.
One car broke down while attempting to drive through water beneath a bridge on Sproughton Road, in Ipswich, blocking the road.
The bottom of Bishop's Hill in Ipswich was closed during rush hour.
Isaac's on the Quay posted a photograph on Facebook, saying Fore Street should be avoided "unless you have a 4x4 or boat".
Jean Cutting, who lives in Rushmere St Andrew, said it was "quite scary" to wake and find her garden under water.
The water had run off from a field behind Ms Cutting's house and at its peak was about 4in (10cm) deep.
"I didn't know if it was surface water or if I'd got a burst drain," she said. "I was very worried.
"I now know what those people in Somerset must have felt like with all that flooding."
Thousands of people are expected to head to the Suffolk Show on Wednesday and Thursday.
A heavy downpour on Tuesday afternoon meant preparations were being carried out in damp conditions, but the event's organiser said the show would not be affected.
"We have very good, light soil," a spokeswoman said. "The moment it stops raining, the water starts to drain away.
"The mood amongst all the stall holders is very upbeat and we're looking forward to a brilliant show."
Visit BBC Weather for an up to date forecast.