Orwell Bridge: MPs make safety call to prevent suicides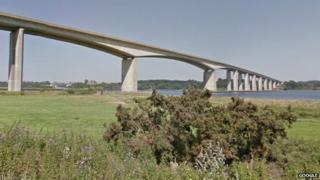 Calls for safety improvements on the Orwell Bridge near Ipswich to help prevent suicides have been made by MPs.
A man who died earlier this week is believed to have been the 40th person to have fallen from the bridge.
Ipswich MP Ben Gummer and Suffolk Coastal MP Therese Coffey want the Highways Agency to look at making it harder for pedestrians to access it.
Mr Gummer said: "I'm not an expert and it may not be possible to do anything but we want them to look."
Samaritans phone lines at either end of the A14 bridge are used on a "frequent basis", according to Mr Gummer.
"If someone wants to take their own life they are normally very determined," he said.
"But it is sometimes possible to put preventative measures in."
A spokeswoman from the Highways Agency said the bridge provided "an important public right of way for pedestrians wishing to cross the estuary" and has walls 1.25m (4ft) high which are "sufficient to prevent people from accidentally falling".