Suffolk escort scam fraudster ordered to repay £160,000
25 March 2014

From the section

Suffolk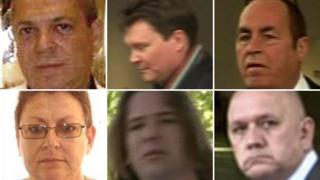 A fraudster who helped con thousands of people in a £5.7m escort scam has been ordered to repay £160,000.
Mark Bell, 41, of Westerfield near Ipswich was one of six people jailed last year after 17,000 people lost money by signing up to escort websites.
He was jailed for six years and six months for fraud at Ipswich Crown Court in July.
Bell has now been given a £160,000 confiscation order, which included paying £68,838 to victims.
If he fails to repay the money within six months, the judge ordered that he should face a further two year jail sentence to add to his existing prison term.
The case, which also included bogus debt-elimination scams, was investigated by Suffolk County Council's trading standards team.
Assets pursued
At earlier hearings, Colin Samuels, 62 of Redgrave, Suffolk was found to have benefitted by £166,000 and was ordered to repay £37,000, while Bradley Rogers, 29, from Malaga in Spain was found to have benefitted by £46,214, but ordered to repay £1.
Samuels is serving five years and six months for conspiracy to defraud, while Rogers is serving a jail sentence of two years and 10 months for money laundering.
Suffolk Trading Standards was continuing to try and seize the rest of the gang's assets through the courts.
The other gang members included Spain-based Toni Muldoon, 66, who was jailed for seven and a half years for fraud.
Former West Yorkshire Police detective Christopher Taylor, 57, of Wakefield, was sentenced to three and a half years in jail for money laundering.
He was ordered to forfeit nearly £100,000 by the courts in December.
Geraldine French, 60, from Spain, was jailed for six years and five months for conspiracy to defraud.
Jeffrey Owens, 64, of Colyford, Devon, admitted money laundering and was given a 12-month sentence, suspended for two years.