RAF Lakenheath too far from 'combat areas'
25 March 2014

From the section

Suffolk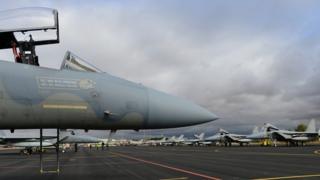 A US airbase in Suffolk facing possible closure is too far from most "combat areas", a report author has said.
The US Department of Defense is considering the future of the base at RAF Lakenheath as part of cost savings.
Moving more forces nearer to the Middle East is one option that could be looked at.
Michael Lostumbo, author of a report to the US government on overseas bases, said Lakenheath costs the US $300m a year.
The US is looking at ways to save money and reorganise its overseas bases, with a review due to be completed within the next few months.
A report last week revealed the closure of the Suffolk base was one option that could save money.
Mr Lostumbo, of the Rand Corporation, a non-profit policy think-tank, told the BBC there were "not a lot of combat areas you can reach readily from Lakenheath".
He said moving more forces to areas near to the Middle East could be one option for the US government to consider.
But, he added, RAF Lakenheath - home of the US Air Force 48th Fighter Wing - was useful as a base for US forces training with British and Nato armed forces.
The US Department of Defense said: "Although the Rand study does not represent the department's official position on any issue and does not provide explicit policy recommendations, it does advance a shared understanding of the tensions and trade-offs associated with potential overseas force adjustments."
Forest Heath councillor for Lakenheath Colin Noble said the report was a "worry" because the base helps local businesses.
"It's a very big part of the local economy," he said.
He said he hoped the council would be given advance warning so "we can plan for the future".
American forces have been at RAF Lakenheath since 1948 and it is home to 4,500 military personnel and 2,000 civilian staff - bringing millions of pounds into the local economy.