Lowestoft capsize: Police hope CCTV can confirm crew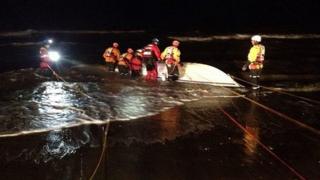 CCTV footage is being examined to try to confirm who was on a boat which overturned off Lowestoft on Monday.
Peter Chambers, 43, of Wellesley Road in Great Yarmouth, Norfolk, died after he was found face down in the water.
Police have been unable to trace his next of kin and are asking for the public's help to find his family.
Two men from the Great Yarmouth area have been reported missing. Police are trying to determine if they were on the fishing trip with Mr Chambers.
An extensive search of the sea ended at 00:40 GMT on Tuesday, about 10 hours after Mr Chambers was found, but a shore search resumed later.
Mr Chambers had left Great Yarmouth harbour on Monday morning and his overturned speedboat was later discovered off Ness Point.
Attempts were made to revive him, but he was pronounced dead at the scene.