Felixstowe rifle range move gets approval from council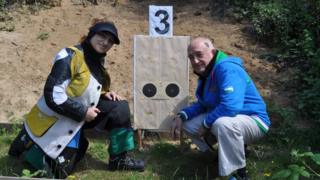 A Suffolk rifle club has received planning approval to move its shooting ranges to free up land for developers.
Felixstowe Rifle Club applied to move from Walton to a site next to the docks railway line off Nicholas Road.
Outline planning permission has been granted by Suffolk Coastal District Council.
The landowner, Trinity College, Cambridge, wants to redevelop the Walton site, even though plans for a Tesco there were turned down last year.
The move was approved despite objections from horse riders who do not want to share a bridleway with motor vehicles which would use it as an access route.
Stephanie Scott, from the Orwell Riding Tracks group, said: "It's a blow because we're losing a riding route that is traffic-free and safe."
The rifle club was founded in Felixstowe in about 1900 and has been at its present site since World War Two.
Bill Bond, vice-chairman of the club, said: "We've worked hard on the design of the new site to minimise noise and disruption to bridleways.
"We'd prefer to stay where we are, but for the future we can't ignore the offer we've been made."