Lowestoft's Learn Scuba moves following floods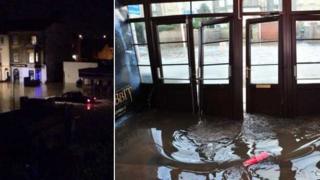 A scuba diving firm is leaving its Lowestoft shop following the surge tide which flooded it in December.
Learn Scuba estimated £80,000 of damage was caused to stock and machinery when its London Road South shop flooded on 6 December.
It will reopen on the South Lowestoft Industrial Estate on Saturday.
Owner Andy Rose said: "The flood was the final straw, but everything happens for a reason sometimes and we're trying to make something from it."
Learn Scuba's shop was filled with about 3ft (1m) of water during the surge tides which affected the area around Lowestoft's harbour area.
The neighbouring cinema on London Road South only reopened last week after having a refit following the floods.
Mr Rose said although stock was able to survive flooding, a lot of packaging and machinery used for scuba diving such as compressors had been damaged.
The decision to move from the rented shop to the Nirvana Fitness Health Centre in Pakefield was finalised three weeks ago.
"The water came in quite quickly at night without a great deal of warning, I was away on a training course and there were no staff on site to tell me the shop was flooding," he said.
"We've only just had the first visit from a loss adjustor and it left a big question mark for two months and created a lot of stress, but they are being helpful now in fairness."