Felixstowe fire station cuts opposed by town council and petitioners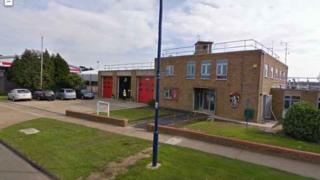 Proposals to get rid of all full-time firefighters in Felixstowe have attracted a 450-strong petition opposing them.
The town's Labour group said it was concerned about response times as a result of existing cuts given that the town was also increasing in size.
Suffolk Fire Service said the service could cope with the latest phase of having only on-call fire crews.
Conservative-run Felixstowe Town Council also opposes the cuts.
The programme of cuts at Felixstowe began in 2011 after the Conservative-run Suffolk County Council agreed to a 12% cut to the fire service's £22.5m annual budget over four years.
'Real concerns'
The number of full-time firefighters has already been cut from 12 to four who work Monday to Friday 08:00-18:00.
The consultation document showed that the first engine from Felixstowe arrived at a fire within 11 minutes on 100% of occasions in 2011 and it had dropped to 83.3% in 2013. The fire service said the target was 80%.
Margaret Morris, a Labour town councillor, said: "There are 2,000 houses in the pipeline - Felixstowe is increasing in size.
"We have real concerns because response times are increasing and people do need to look carefully at the figures to understand what has already happened."
Felixstowe's Labour group said it collected the signatures for the petition in the town centre on Saturday.
Felixstowe Town Council passed a resolution last week calling upon the county council to cancel the latest cuts.
When the consultation began in January, Phil Embrey, assistant chief fire officer, said there would be an impact on call response times with the loss of full-time firefighters in the daytime, but the "overall effect is within our tolerable levels of management".
Suffolk County Council's consultation process includes an open evening at the fire station later.
The public has been asked to complete a survey about the final phase of cuts by 4 March.