Suffolk Fire Service considers retained crews changes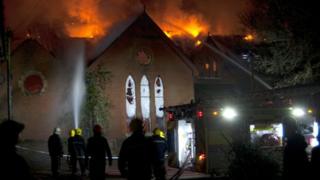 Suffolk's fire service is considering changing conditions for its on-call firefighters, after a union called the current system a "broken model".
Retained firefighters in the county currently have to be available for a minimum of 90 hours per week.
The Fire Brigades Union said this put people off joining and left parts of the county with a lack of cover.
Suffolk Fire and Rescue Service said it was looking to reduce the limit to "encourage more people to join".
Phil Embury, assistant chief fire officer, said the on-call firefighters provided 90% of the cover for the county.
"The system has its pressures and its pinch points, but we have 430 excellent firefighters who provide cover around the clock across the county," he said.
Local help
He said some stations were "more difficult to crew than others" and efforts had been made to employ more on-call firefighters.
"But those people are not coming forward," he said. "We're making efforts, talking to employers and the local people."
Mr Embury said he hoped changes to the rules would "enable more people who have free time during the day to sign up to a contract that doesn't commit them to more hours than they're able to give".
Andy Vingoe, chairman of the Fire Brigades Union in Suffolk, said the current system meant fire engines were regularly out of action due to a lack of a crew.
"Our belief is it's a broken model," he said.
"People are seeing a fire engine in their local fire station, thinking 'oh good, we're safe', but there may not be a crew there."
He said the union would welcome moves to reduce limits on retained crews, making it an option for people including those who have children at school.