Work begins on Bury St Edmunds' Cupola House rebuild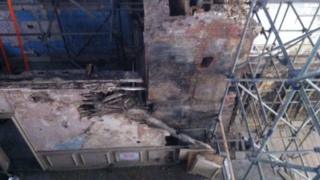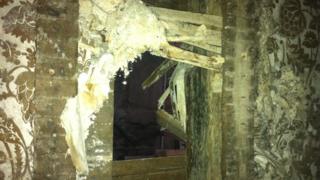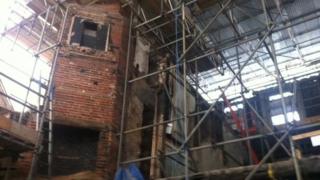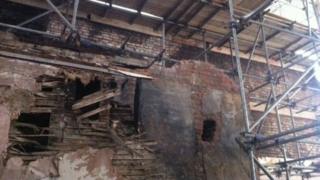 A year-long project to rebuild a 17th Century restaurant severely damaged by fire has begun.
Photos taken inside Cupola House, in Bury St Edmunds, show the extent of the damage caused by the June 2012 blaze.
A metal frame will be installed as part of the project, which is costing more than £1m.
Ben Whatling, contract manager for builders Seamans, said the cupola itself was being restored and should be added towards the end of the year.
About 120 people had to be evacuated from the Grade-I listed building, which was being used as a Strada restaurant, when the fire broke out in the kitchen.
"The back collapsed during the fire and fell into what was the basement," Mr Whatling said.
"There's a lot that has been lost unfortunately due to the collapse but we've got records that we can look at to try and reconstruct it with the original detail."
The five-storey building is on the Traverse and dates back to 1693. It was restored in 2004, at a cost of £500,000.
Mr Whatling said it was a "credit to the fire brigade" that the building could be salvaged.
Kate Palliser, who runs the nearby Scarlet's shoe shop, said she was pleased there was an end in sight for the disturbance but disappointed it would carry over to next year.
"The sooner they do it the better," she said.
"They're very considerate with us, they tell us when the big machinery is coming in.
"But it will be the third year that we haven't had our Christmas tree, which is a sad situation for the Traverse."