Hadleigh Tesco: Campaign over 26 years inspires play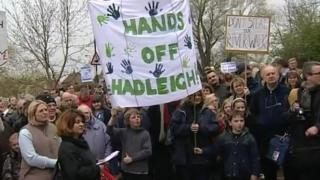 A 26-year battle to build a supermarket store in a small Suffolk town has provided the inspiration for a play.
Plans for a supermarket in Hadleigh were first rejected in 1987 and Tesco's most recent application was turned down in September.
Playwright Joe Wilde, 27, grew up in the town and said he found the battle between the supermarket and local campaigners "fascinating".
"It was something that animated an entire community," he said.
Mr Wilde, who now lives in London, spotted some 'Hands off Hadleigh' posters a few years ago during a visit to his parents' home.
"When I asked my parents about it, they said it was still going on, which meant it had spanned two decades. It's incredible," he said.
Mr Wilde's play, supported by the HighTide Festival Theatre, uses Tesco's plight as a backdrop for a story about a family in the area, and looks at the attitudes of different generations.
'Pragmatic and financial'
"At its heart this is a tale about a family trying to cope with changing times, and two generations of people trying to make sense of the world over a family Christmas," he said.
"The parents, who are now in their 50s, and comfortably well-off, are keen to defend what they see as the traditions of the town.
"Then the younger generation, who are just trying to make their way in the world, are struggling with graduating in an austerity Britain.
"Their concerns are much more pragmatic and financial.
"That's often the split, supermarkets do bring cheap food, conveniently, and there are lots of people who rate that more important than anything in the way of tradition, local area, local shops and that sort of thing."
The first public reading of the play was held at Hadleigh Guildhall on Thursday, the day Tesco announced its withdrawal from the plans, and a second reading is planned for Ipswich in January.
"I'll gradually build it up hopefully for a full performance in 2014 or 2015," he said.
Mr Wilde said the play had taken inspiration from Hadleigh but has at its centre a topic many people around the country would relate to.
He said: "The idea of large national corporations pitted against local populaces for control of land and resources is the battle of the age, particularly for a developed country like Britain."
Tesco is yet to comment on the play.