Ipswich torture trial: Two men found guilty of kidnap and assault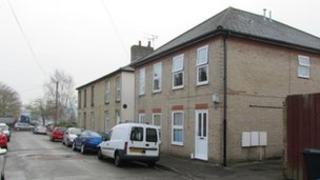 Two men have been found guilty of kidnapping and torturing a man who arranged a drug deal in Ipswich.
John Ugoani told Ipswich Crown Court he was tied up, blindfolded, scolded with hot water and burnt with an iron at a flat near Stoke Bridge in March.
The jury found the two men guilty of a series of offences, while another defendant was cleared.
The pair are due to be sentenced next week along with two other men who admitted a series of related offences.
During a fortnight of evidence, Mr Ugoani told the trial he had arranged to buy £16 worth of cannabis, but following a meeting on Bell Close he was taken to the flat on Purplett Street.
Hospital treatment
The court heard he was assaulted, robbed and his Cemetery Road home burgled, before he was released.
He needed hospital treatment for burns on his chest.
Gibril Seray-Wurie, 31, of Lone Barn Court in Ipswich and Malachi Cavalho, 27, of no fixed abode were found guilty of kidnap, false imprisonment, robbery, assault and burglary.
Ishmael O'Connor, 24, of Nacton Crescent in Ipswich was found not guilty of the same charges.
Seray-Wurie was also found guilty of possessing a knife.
Ricky Greenwood, 23, formerly of Ipswich but now of Redwell Place, Daventry in Northamptonshire, admitted burglary and false imprisonment, while charges of kidnap, robbery and assault against him were dropped.
Daniel Smith, 25, whose address was given as HMP Norwich, had already pleaded guilty to kidnap, false imprisonment, robbery, assault and burglary.
The four men are due to be sentenced on Tuesday.