Tesco withdraws Ipswich Grafton Way plan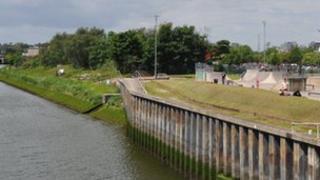 Tesco has withdrawn its current application for a retail and housing development on Ipswich's riverside.
The supermarket had already abandoned plans to build one of its own stores at Grafton Way, but had hoped to get permission for a smaller shop.
Ipswich Borough Council's officers had recommended the application be refused at a committee meeting earlier.
Tesco said it was "disappointed" but would continue to try to sell the site to another developer.
In 2011, Tesco was granted permission to build a superstore at the site, but it abandoned those plans earlier this year and had been seeking different planning permission so that it could sell the site.
Its subsidiary Spenhill had submitted a plan for a smaller food store, two hotels and 17 townhouses.
'Wrong location'
The Ipswich Central business group has campaigned for any new retail development to be restricted to the town centre and docks area with the Grafton Way site used for housing.
Paul Clement, its chief executive, said: "It's a very good day for the town centre as we have always said this was the wrong sort of application in the wrong location.
"It's a waterfront site and the town centre needs more people living in it and that's probably the route that we're going down now."
A Tesco spokesman said: "We were disappointed officers recommended our latest application for refusal as it proposed a smaller food store than the already permitted scheme and townhouses rather than flats.
"It is our objective to see the site developed at the earliest opportunity ... and will continue to pursue the sale of the site with the current permissions."
David Ellesmere, Labour leader of Ipswich Borough Council, said: "We're consulting on the land use for the site and out suggestion is that it should be mainly residential.
"While we welcome the withdrawal of the application, we now want to meet with company representatives as soon as possible to discuss their plans."