Jean Kent: Post-mortem tests delay funeral for actress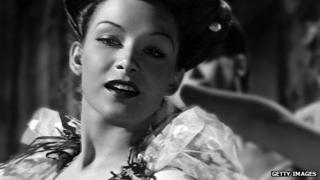 The funeral of British actress Jean Kent has been delayed after a coroner ordered a post-mortem examination.
The 92-year-old was injured in a fall at her home in Westhorpe, Suffolk, and died in hospital on Saturday.
Suffolk coroner Dr Peter Dean said the death was referred to his office on Monday, with an examination likely to take place in the next few days.
The funeral of Kent, one of Britain's biggest TV and film stars in the 1940s and 1950s, had been set for Saturday.
Film critic Michael Thornton, her close friend and the executor of her will, said: "The coroner feels that the cause of her death is uncertain and has therefore ordered a post-mortem [examination].
'Feisty, funny, outspoken'
"People were travelling long distances to attend the service and we are now trying to contact them all. It is quite a problem."
The funeral had been due to take place at St Margaret's Church, in Westhorpe, close to the star's secluded home.
Ms Kent's last public appearance was in 2011 when she was honoured by the British Film Institute on her 90th birthday.
Paying tribute to her, Mr Thornton said she was a "feisty, funny, outspoken character who never took herself too seriously".
Kent's career included regular appearances in Gainsborough melodramas, which were popular with large numbers of newly-independent women following the outbreak of the Second World War.
She also acted in 45 films and starred alongside Marilyn Monroe, Michael Redgrave and Laurence Olivier during her career.