Luke Durbin: BBC Crimewatch 'interesting calls' over missing teen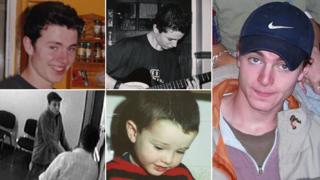 Two calls "of particular interest" have been received after an appeal on BBC Crimewatch by police investigating the disappearance of a Suffolk teenager.
Luke Durbin, 19, went missing in May 2006 after a night out in Ipswich.
His mother, Nicki, from Hollesley, near Woodbridge, said his disappearance was out of character.
It was also revealed on the programme that Mr Durbin's identity was used in London in August 2007 in a computer-related fraud.
Home video
Det Supt John Brocklebank said: "It is only going to take one piece of information for us to find out what has happened to Luke.
"Out of the calls received, two were of particular interest to us.
"It is encouraging and the team working on this case will now go away to see if the information received can help us move the investigation forward."
Footage of Mr Durbin on CCTV on the night he went missing was shown to Crimewatch viewers, as well as clips from a home video and photographs of him when he was younger.
His mother also spoke on the programme, saying that at the point her son went missing she thought he had found direction in his life.
"He wanted to travel, he just seemed driven," she said.
"My imagination has become my best friend and my worst enemy. No parent should lose their child, but to lose your child to an unknown entity just eats me up."
Det Supt Brocklebank said although national coverage of Mr Durbin's disappearance was important, he still believed someone locally "held the key" to where he went in the early hours of 12 May.
Two men were arrested earlier this year but later released.