Felixstowe's seafront gardens will not be ready until 2015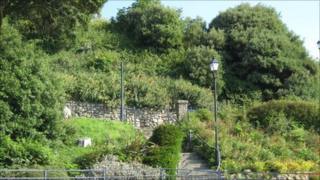 The £2.8m renovation of Felixstowe's seafront gardens has been delayed until 2015 as the search for a replacement contractor continues.
Suffolk Coastal District Council terminated its contract with P Casey (Land Reclamation Ltd) in September following a legal dispute.
The council is advertising for another firm to carry out the work.
Councillor Geoff Holdcroft said: "It was due to be ready at Easter, but we think we've got an extra year's delay."
The cliffs were landscaped a hundred years ago when the town was developed as a seaside resort.
The renovation plans included improved access for wheelchairs, restored shelters and ponds and the recreation of historic planting designs.
'Good-value proposition'
Mr Holdcroft, who has responsibility for leisure, said: "It's very disappointing and frustrating, but you must take care to get the right contractor.
"There is still a substantial amount of work to be done and we are looking for a good-value proposition."
P Casey said it had no comment to make on the legal dispute.
The Heritage Lottery Fund has provided £2.2m while the council was spending an extra £570,000.