Seal visits Beccles quayside after swimming 10 miles inland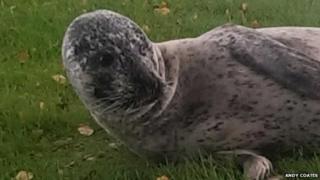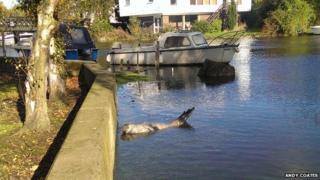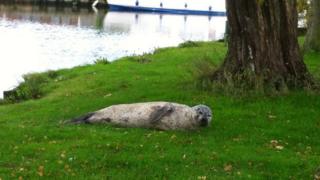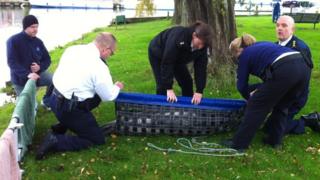 A seal has been found on a quayside at a Suffolk town 10 miles (6km) from the coast.
The animal, believed to be a common grey seal, arrived at Beccles quay on Monday when there were high tides.
People working on the quay said it looked exhausted and unwell and speculated that it may have got caught in fast tides on the River Waveney.
The RSPCA has taken the seal to its wildlife centre at East Winch, Norfolk for assessment.
The animal charity said it would treat the seal if it was appropriate.
Andy Coates, who works at Cobweb Crafts on the quayside, said there was evidence of a slight wound on its side, although it was not fresh.
He said: "It probably came upriver from Lowestoft during Monday's high tides.
"If it was exhausted at sea, it might have come inland and got caught in the fast river tide.
"It's probably trying to rest and recuperate, but it needs to be in a better environment because there are dogs on here constantly."
Earlier this year, a wounded seal was found at Felixstowe and the RSPCA successfully treated it at its East Winch centre before releasing it into the River Nene near the sea.