Mary Roberts murder trial: Andrew Ratcliffe jailed for life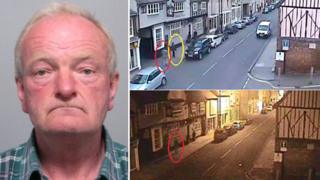 A "sexually obsessed" man has been jailed for life with a minimum term of 23 years for murdering a woman at a Bury St Edmunds pub.
Mary Roberts, 50, was sexually assaulted and strangled at the back of the St Edmunds Tavern in March.
Andrew Ratcliffe, 56, who lived in Petch Close in the town, was convicted of murder at Ipswich Crown Court.
A week-long trial heard he was arrested with Ms Roberts' underwear in his pocket.
The jury heard Ms Roberts had been living in the same flat at Ratcliffe for two weeks and that that he had developed a sexual obsession with her, but his advances were not reciprocated.
Ratcliffe had been out drinking with his victim on Tuesday, 26 March, and they left the pub at about 23:45 GMT.
'Sexual misconduct'
Her body was found in the pub's covered smoking area the following morning with Ratcliffe's DNA on her.
Ratcliffe told the court they had been at the back of the pub, but that he had fallen asleep on the ground and not noticed the dead body when he woke up.
He later phoned an ambulance claiming to have been attacked.
Passing sentence, Judge John Devaux said: "There was not a word of truth in your story.
"You were hoping to distance yourself from the death of Mary Roberts and provide yourself with an alibi.
"The evidence as a whole is of sexual misconduct. You killed this lady because she rejected your sexual advances."
Punam Malhan, from the Crown Prosecution Service, said: "This evidence showed just how hollow was Ratcliffe's explanation of 'falling asleep on the ground' and not knowing what had happened to Mrs Roberts.
"The evidence of what happened in this case must have been very upsetting for the family and friends of Mrs Roberts, but we hope they can take some comfort from the fact Ratcliffe is now starting a lengthy prison sentence."