Ofsted inspects under-performing Suffolk primary schools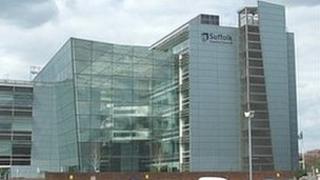 Ofsted has revealed the first results of an inspection following concerns Suffolk has a disproportionate number of under-performing schools.
The watchdog carried out 33 inspections last month after 30% of Suffolk primaries were rated as "not yet good" compared to 21% nationally.
Of ten primary schools inspected, nine were deemed to be at the same level.
St Margaret's Community Primary in Lowestoft had dropped from 'good' to 'requiring improvement'.
Four others also 'required improvement', one remained 'outstanding', while four retained their 'good' status.
Earlier this week, Suffolk County Council said it was about to approve a £2.4m spending package as part of its Raising the Bar school improvement policy.
'High expectations'
No-one from St Margaret's was available to comment.
Somerleyton Primary near Lowestoft was one of the schools which stayed at the same level - its last report was 'satisfactory' while the new one said it 'required improvement'.
Louise Spall, Somerleyton head teacher, said: "Our report acknowledges the actions already taken, the strengths of the school and the high expectations that teachers and assistants have.
"We are working to improve standards and Raising the Bar will have an effect and we are beginning to build partnerships with other schools locally as part of that."
Lisa Chambers, the county council's cabinet member for education, said: "We welcome Ofsted inspecting schools because it helps us to drive improvements.
"Through our Raising the Bar programme, we're working with and challenging schools to drive up educational attainment.
"Early indication from the latest exam results indicate that many schools in the county are making progress in the right direction and this work will most certainly continue."
Three Suffolk high schools also had their latest Ofsted reports published.
East Bergholt had improved from 'satisfactory' to 'good', but Kesgrave High had gone down from 'outstanding' to 'good'.
Stradbroke High was currently 'good', but it had no previous report to compare it to.