Lowestoft Hospital: Closure is NHS's 'preferred option'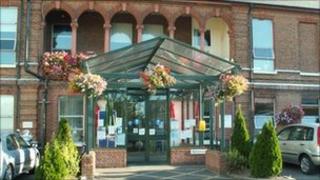 The closure of Lowestoft Hospital is the 'preferred option' of NHS managers looking at health care in the town.
HealthEast said it wanted to close the hospital in 2014 and replace it with two health centres.
One is already being built in Kirkley Rise, the other would be developed on the hospital site.
The chair of the Friends of Lowestoft Hospital group said it was "disappointed" that the hospital looked like it would close.
HealthEast, which is the clinical commissioning group for Great Yarmouth and Waveney, said the majority of people who took part in a public consultation understood the need for the hospital closure.
The community hospital has 25 beds, which are used by patients of visiting consultants or older patients who have been referred by GPs.
'Modern facilities'
Pat Rayner, chair of the Friends of Lowestoft Hospital, said: "The hospital's been here for 150 years and now it looks like it will disappear and I'm disappointed.
"I'm not sure most people realise that, if the hospital goes, the replacement health centres don't have beds and the NHS will be buying beds in nursing homes and care homes."
HealthEast said 68% of the 625 people who responded to the consultation backed its favoured option.
Andy Evans, chief executive of HealthEast, said: "We need appropriate, modern facilities from which we can get our teams out into the community.
"However much Lowestoft Hospital is loved, it's not fit for 21st Century medicine which is getting more advanced so that we can do things at [patients'] home.
"We believe this proposal will provide safe, high quality, seamless services which are closer to people's homes and also offer excellent value for money."
The James Paget University Hospitals NHS Foundation Trust in Gorleston, which runs Lowestoft Hospital, is due to look at the report later this month.
HealthEast said it would make its final decision on 24 October.