Paralympian Zoe Newson's powerlifting club 'going under'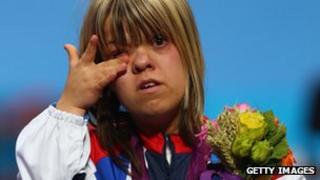 A Suffolk Paralympic medallist's local sports club says it is in danger of folding due to a lack of funding.
Suffolk Spartans powerlifting club, based at East Bergholt, is home to Zoe Newson who won bronze at London 2012.
The club said it had £35 in the bank and any fresh costs were being paid for by members.
Coach Louise Pennell said: "Any costs come out of our own pockets, which can't continue indefinitely, so there's a real danger the club will close."
Newson won her medal in the 88kg category at the Paralympics last year and, although she gets some individual funding from Suffolk Sports Aid, her club does not get any.
"Without the club and my coaches I wouldn't have been able to do all this," she said.
No 'spare cash'
Babergh District Council provided some expenses after the club was set up in 2007, but that came to an end just before London 2012.
The Spartans rent part of the gym at East Bergholt Leisure Centre for one night a week.
Ms Pennell said: "The only reason we didn't close then was because we were so close to London 2012 and we couldn't miss the opportunity with Zoe.
"There doesn't appear to be any legacy as there's no new equipment or funding coming our way, despite us producing the UK's only paralympic powerlifting medallist since Athens 2004."
The Spartans said the club was unable to grow without extra funding and the cost of getting to competitions had to be paid for by competitors and coaches.
Tony Bush, business development manager at Suffolk Sport, said: "We're not funded to give out funds, but we will certainly help Suffolk Spartans, and indeed any sports club, source funding with advice, support and help with applications."
Ash Metcalfe, chief executive of the sport's governing body British Weightlifting, said: "We are not awash with funds and, as a minority sport, trying to move it forward is extremely difficult.
"We have had grants from Sport England and UK Sport, but those were for pre-arranged projects and, as a result, we don't have any spare cash in the bank."