Costa free samples van not wanted by Southwold Town Council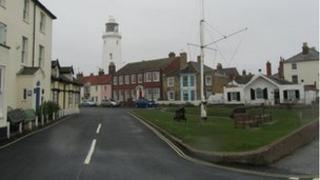 Coffee chain Costa has been told not to give out free samples from a van in a Suffolk seaside town.
The firm wanted permission to send its Ice Cold Tour van to Southwold, where it opened a shop earlier this year in the face of 600 letters of objection.
Southwold Town Council said it meant other cafes would not be able to compete on a level playing field.
Costa withdrew the application for the event after talking to the council, but said it was "disappointed".
The coffee chain opened an outlet on Southwold High Street in February after it resubmitted a previously-rejected planning application to Waveney District Council.
Some businesses and people in the town said Southwold's image of having independent shops would be altered if another national chain were allowed to open.
Costa has since been looking to send its promotional van to Gun Hill to hand out free coffee samples.
Simon Tobin, mayor of Southwold, said: "The town council operates to support all businesses on a fair and level playing field."
Michael Ladd, Waveney District and Southwold Town councillor, said: "There is an element of it being unfair on independent cafes, but the seafront greens in Southwold shouldn't be used for any promotional activities as they are public open spaces and not commercial retail parks."
A Costa spokesperson said: "After several discussions between Southwold Town Council and the team, the decision was taken to withdraw the application.
"We were disappointed that we couldn't bring Southwold some fun and free refreshments on this occasion."