Lowestoft carnival parade cancelled due to lack of entries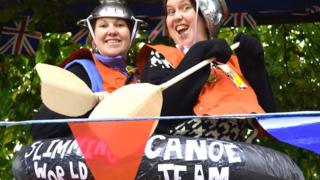 A carnival parade which has run for 43 years has been cancelled after only three floats applied to take part.
Organisers of the Lowestoft event, which was to take place on 11 August, said there had been a "disappointing lack of support and interest".
Twelve other people had registered to parade alongside the three floats, but this was half the number of entrants from last year.
The event raises money for the Friends of Lowestoft Hospital.
'Let down'
Carnival committee chairman Pat Rayner said: "It is ironic that this year we have managed to get everything else in place - the road closure, traffic management and the event plan paperwork.
"But we have been let down by the town."
The parade, which travels along a 1.5 mile (2.4km) route in the centre of Lowestoft, peaked with a total of 50 entrants 10 years ago.
Mrs Rayner said the parade attracted a large number of spectators, but this year would have left people "disappointed".
Seventy forms were sent out to potential entrants.
"I would like to thank all those who did return their entry forms and apologise to them for any disappointment caused by our decision, which is final," Mrs Rayner said.