Lowestoft swing bridge: Council approves land purchases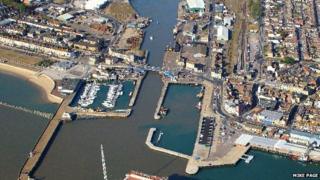 Plans have been approved to buy land to build a new swing bridge in Lowestoft.
Suffolk County Council agreed to make compulsory purchase orders, costing £2.2m, on either bank of Lake Lothing next to the existing Bascule Bridge.
The council said the new bridge, for cyclists and pedestrians, did not mean the campaign for a third road crossing would be abandoned.
Planners said a government public inquiry into the swing bridge would be held, but work could begin in 2014.
The swing bridge would be built west of the existing road bridge, as part of the Lowestoft Local Links Project, which has a budget of £6.25m.
'Easy flow'
Mike Cooper, who runs an electronics store near the existing road bridge, said: "The problem is traffic, not pedestrians or cyclists because they're not causing the hold-ups.
"Most locals are saying what do we need it for?"
Tod Sullivan, Labour councillor in Waveney, said: "I can understand why people do feel like that, because it's in the context of not getting investment for a third crossing for motor vehicles, but it's not a choice of one or the other.
"I think any investment is a good thing and, in the way it's designed, it will make for an easy flow of bikes and people."
The county council will now continue to negotiate buying the land with the owners - Associated British Ports on the south bank and Taylor Patterson Trustees on the north bank.