Inmate Andrew Farndon refuses to leave cell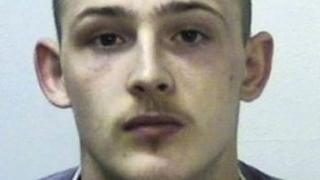 The sentencing of a prisoner - who went on the run after fleeing from outside a Suffolk hospital - has been delayed after he refused to leave his cell.
Andrew Farndon, 27, had pleaded guilty to escaping from custody outside West Suffolk Hospital in Bury St Edmunds in January last year.
He was due to be sentenced at the Old Bailey.
The court heard that due to a row over conditions at Belmarsh prison, Farndon had refused to leave his cell.
Farndon at present is serving an indefinite jail term for smashing a motorist's head with a claw hammer and baseball bat.
Assaulted police officers
During the escape, Farndon's former cellmate Garry Cowan, 44, held a gun to a prison officer's head and threatened to shoot her if Farndon was not released.
The pair, who had shared a cell at Highpoint jail in Stradishall, Suffolk, had hatched a plot to free Farndon before Cowan was released two weeks earlier.
They were both later tracked down in Scotland and arrested.
Farndon's barrister Stephen Shay told the court his client would not be attending the hearing as he had an "ongoing problem in Belmarsh with the prison conditions".
Judge Nicholas Hilliard QC, the Common Serjeant of London, said the case had run "for a long time" but he was prepared to adjourn sentencing "once more" in light of Farndon's psychiatric issues.
"I'd rather deal with the case when Mr Farndon is here," the judge said.
While on the run, Farndon assaulted two police officers and tried to hijack two police cars.
He was arrested and in May this year was jailed for six years for the attempted hijacking.
Cowan and Farndon were convicted over the escape last December but their sentencing was delayed by a series of doctors' reports into Farndon's sanity.
Farndon has nine convictions for 18 offences including setting fire to his mother's home, burglary, assault and criminal damage.
Last month, Cowan, who has committed almost 500 offences, was sentenced to 10 years in prison for assisting an offender and possessing an imitation firearm with intent to cause fear of violence.
Farndon is due to be sentenced at the Old Bailey on 18 July.