Ipswich holiday boss Michael Fisher admits fraud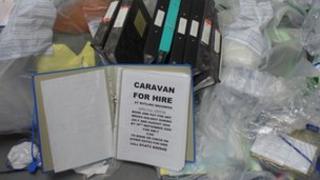 An Ipswich holiday-bookings businessman has admitted defrauding 200 customers by offering them lettings at caravans he never owned.
Michael Fisher, 45, of Jamestown Boulevard, who ran Blue Sky Lettings and Lucy's Caravan Holidays, pleaded guilty to fraud at Ipswich Crown Court.
Suffolk Trading Standards, which began the case in 2009, said staff, customers and other businesses were left £130,000 out-of-pocket.
He is due to be sentenced on 8 August.
Trading Standards said Fisher swindled "tens of thousands of pounds" from customers who paid him to rent caravans at Butlins in Skegness.
Officers said he took more than 200 bookings from customers and none of them received a holiday or got their money back.
He also attempted to pay the £130,000 using cheques for accounts that had either been closed down or only had a couple of hundred pounds in.
Lee Nunn, from Suffolk Trading Standards, said: "We visited Fisher's business within hours of receiving the intelligence and ensured that no further holidays were sold and as a result of this action Fisher's business stopped trading shortly after this.
"However, hundreds of innocent victims had already been scammed by this time to satisfy Fisher's greed."