Suffolk coast Touching The Tide project gets lottery funding
19 June 2013

From the section

Suffolk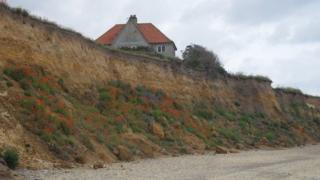 A conservation and history project for the Suffolk coast has begun after securing £800,000 funding from the national lottery.
Touching the Tide is being run by the Suffolk Coast & Heaths Area of Outstanding Natural Beauty body.
It said the money will be spent on restoring salt marshes, preserving shingle vegetation and promoting its history.
The project would also commemorate the switching-off of Orfordness lighthouse.
Touching The Tide will cover the coast between Covehithe and Felixstowe.
Bill Jenman, project manager, said: "In some places the coast is eroding and in some places it's growing, so it's helping people to understand coastal change so they can reach a view on what the best thing to do about it might be.
"This coast is actually worth over £200m to the tourist industry, so understanding it is a key to its long-term conservation."
Underwater study
Stuart Hobley, Heritage Lottery Fund development manager, said: "The Suffolk coast is such an extraordinary area with an ever-changing coastline which has such a personal connection to the communities who live, work and visit there.
"Our funding will help more people to experience and understand the historic environment around them. "
The project team said the funding would last for three years and it would look at the military history of the 19th Century martello towers and 20th Century military research on Orford Ness.
It will begin this month - helping with an underwater survey of the lost city of Dunwich, which is being carried out by a team from Southampton University.