Lowestoft relief road being 'rushed through' say parish councils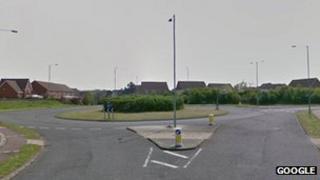 A new Lowestoft relief road which has received £4.7m in government funding is being "rushed through" to the detriment of residents, two councils have said.
Suffolk County Council said the new 0.7 mile (1.1km) road will ease congestion and boost business in the town.
But two parish councils said plans for traffic lights near Corton Long Lane, instead of a roundabout, will create a "traffic backlog".
The county council said their objections would be considered.
Stephen Pavey, chairman of Corton Parish Council, said he believed original plans included a roundabout rather than traffic lights.
"If you want to install a roundabout in England you have to get permission from the Department for Transport, if you want traffic lights Suffolk County Council can do it," Mr Pavey said.
'Get it right'
"It would take about two years to get permission from the Department for Transport but they want to build it now.
"Traffic lights are designed to control traffic, roundabouts aid traffic flow. Surely it's better to wait and get it right."
Graham Wade, chairman of Blundeston Parish Council, said the councils felt like they were being pressured to accept what they see as less than ideal plans.
"If we don't accept it that will take two years for plans to go through and there will be no funds because they'd be eaten up by something else," he said.
Councillor Graham Newman, portfolio holder for transport, said the design for the road, which will connect the roundabout at Millennium Way/Bentley Drive with the A12, had been through a "thorough process".
"One can argue it would be nicer to have a roundabout, but in order to qualify for this scheme it has to be finished by 2015," Mr Newman said, adding that a roundabout would require "extra costs".
The council is contributing £1.5m to the transport scheme, which will also include work around the railway station and at the A12 junction with Commercial Road.