Southwold Pier-to-Pub Swim: 'Wrong decision' to start
28 May 2013

From the section

Suffolk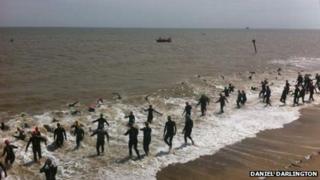 The organiser of a charity sea swim in Suffolk in which dozens of people had to be rescued said starting the race was the "wrong decision".
More than 130 swimmers got into difficulty during Southwold's Pier-to-Pub swim on Sunday and had to be pulled to safety by the emergency services.
Two people were taken to hospital with suspected hypothermia.
Organiser Simon Edwards said the outcome could have been "a lot worse" had it not been for the coastguard.
Sunday's race began half an hour late, meaning people were caught by strong currents as the high tide moved back out.
Four RNLI lifeboats and a rescue helicopter were involved in the rescue effort, after initial reports that up to 90 people were missing.
Some swimmers were rescued by lifeboat while a number of people swam to the shore themselves.
Mr Edwards, of Active Outdoor Sport, told the BBC: "The first thing that went through my mind was that perhaps the decision to start the race was the wrong decision.
"We can call the event off at any stage and although we had swimmers waiting ready to start for 30 minutes, the key decision was to start the race at that time.
"Hindsight is a great thing and if I was to do the whole thing again under the same circumstances then I would have made different decisions.
"If it hadn't been for the coastguard and the RNLI taking control of the situation it could have certainly been a lot worse."
Mr Edwards also apologised to the swimmers in an online statement, adding that he would be reviewing the incident with the coastguard and RNLI.
Simon Callaghan, helmsman at Southwold Lifeboat, said: "We can carry a maximum of 23 people on board the lifeboat and we had 21 people at one time.
"We were just ferrying them as close to the beach as we could and then getting them to swim ashore where they could meet up with the emergency services.
"It was good conditions really - it wasn't a very big sea - but I think the main factor was the tide. They were swimming against possibly two and a half knots of tide which is quite draining."