Butley car crash leads to power cut
25 May 2013

From the section

Suffolk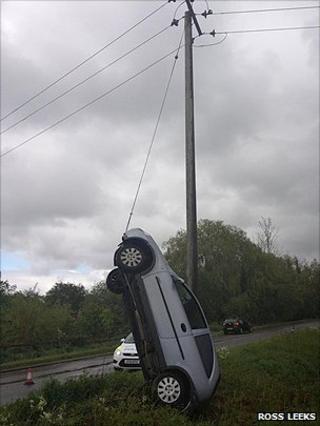 The driver and passengers of a car in Suffolk were left looking skywards when their vehicle left the road and came to rest against a power cable.
Police were called to the incident on the B1084 between Butley and Chillesford about 13:30 BST on Friday.
Four people were travelling in the grey Vauxhall Corsa. Nobody was injured in the accident said a police spokeswoman.
More than 90 people in the area were without electricity for up to three hours while the vehicle was recovered.
Surveyor Ross Leeks, 37, of Suffolk-based BTS Group, an overhead line and tree management company, was passing the accident and stopped to help police.
He said: "I wasn't called for the accident. I was just passing and stopped to help the police because of my health and safety knowledge of the power network."
A spokeswoman for UK Power Networks said: "Following a car colliding with one of our HE poles yesterday in the area of Butley, engineers attended site to carry out repairs.
"Power was isolated for 92 customers at 3.25pm, but restored to 67 customers at 5.15pm and the remaining 25 had power on at 6.30pm."