Suffolk schools to begin partnership with Hackney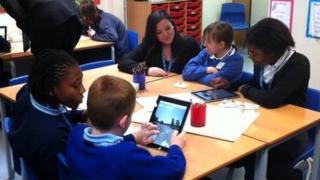 Complacency is to blame for poor performance in Suffolk schools, according to a report.
The study, by the Royal Society for the encouragement of Arts, Manufactures and Commerce, proposes the county's schools should link up with a London borough.
The report said: "Being satisfied with existing standards is part of what allowed Suffolk to fall so far behind."
Suffolk County Council said schools will make a formal partnership with schools in Hackney.
Suffolk is ranked 148 out of 150 local authorities for Key Stage 2 attainment for 11-year-olds and 142 out of 150 for GCSE results at the age of 16.
In Hackney, the number of pupils getting five or more GCSEs (grades A-C) has almost doubled to 60% since 2005 (see table below).
'Erratic course'
The study also recommends that schools collaborate with a wide range of partners and suggests each school should have a parents' council.
The report, No School An Island, was commissioned by Suffolk County Council.
It said the performance of schools had followed an "erratic course" in the last 10 years..
Recommendations to "transform the culture of learning" across the county, include the long-term partnership with a London borough, routine collaboration across and beyond Suffolk, setting up a Suffolk Partnership for Excellence in Learning.
The report also suggested schools with under 100 pupils should enter a federation with other schools.
'Collective effort'
The study said partnership with a London borough would create a more "radical shift in outlook" by exposing schools to ideas and approaches outside their "comfort zone".
Lisa Chambers, Suffolk County Council's cabinet member of education said: "We know that much can be achieved from closer working with them and that fresh ideas will come from partnerships like this.
"This isn't about replicating exactly what Hackney has done because that wouldn't necessarily work in Suffolk."
Rita Krishna, Hackney Council's cabinet member for children's services, said they were "happy" to develop the relationship.
"Our success was brought about by a huge collective effort in which the whole community joined," she said.