Sudbury Magistrates' Court goes to auction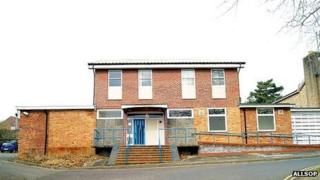 An empty courthouse in Suffolk is to be auctioned at the end of the month.
Sudbury Magistrates' Court is expected to sell for between £75,000 and £125,000 during the auction at London's Cumberland Hotel.
The building is joined to the town's police station and includes two court rooms, a magistrates' retiring room, probation office and reception areas.
Simon Hepworth, who is handling the sale for property consultants Allsop, said it could have "various uses".
He said: "It could be used for residential, offices, many different things but probably not as a shop as it's a bit off the beaten track.
"It's up to prospective buyers to make up their own minds about what they want to do with it."
The site in Acton Road closed in April 2011 and is being sold by HM Courts Service.
Cases were transferred to courts in Bury St Edmunds and Ipswich.
Potential buyers will also notice an unusual feature - a sealed door which linked the court to the police station and its holding cells.
"There is nothing to worry about from a security point of view," added Mr Hepworth.
The auction will take place on 29 and 30 May.