Suffolk police commissioner defends office costs to MPs
15 May 2013

From the section

Suffolk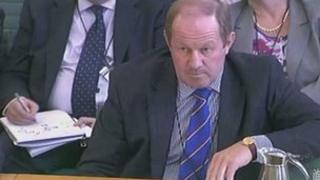 Suffolk's new police and crime commissioner has defended the costs of his office to MPs.
Tim Passmore appeared before the Home Affairs select committee and was questioned about his £1.7m budget.
Keith Vaz MP, committee chairman, suggested there had been almost a doubling of costs since the change from the old Suffolk Police Authority.
Mr Passmore said that was incorrect and the costs had actually gone down by £100,000 since his election last year.
Mr Vaz said to Mr Passmore: "You employ nine people, but your total office cost is £1.7m and that's a 48% increase on the previous police committee."
Mr Passmore replied: "The cost of the office is actually over £100,000 less than the previous police authority.
"I can assure you nobody is being paid any extra and there have been no other appointments at all on top of what I inherited from the police authority, which is something we're looking at at the moment."
Mr Passmore's office said there was a 48% increase in his total budget, but it was due to the inclusion of the £600,000 Community Safety Fund, which came from the government.
This fund was not included in the old police authority budget.