Suffolk escort scam trial: Boss 'befriended businessman'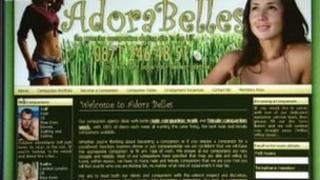 A businessman accused of being a partner in a £5.7m escort and debt elimination scam has told jurors how he was befriended by the scheme's leader.
Mark Bell, 41, of Westerfield, Suffolk, said he thought he was involved in the honest business of supplying phone lines.
He told Ipswich Crown Court that Toni Muldoon took him for meals and loaned him an apartment in Spain for free.
Mr Bell denies charges of conspiracy to defraud and money laundering.
Muldoon, who ran the scam from Spain, has already pleaded guilty to the same charges.
He was investigated for three years by Suffolk Trading Standards after it received complaints from Muldoon's customers.
'Very friendly'
The jury heard Muldoon befriended Bell and allowed him to stay in his villa on "four or five occasions".
Giving evidence, Mr Bell said: "I was flattered. He was very friendly. I did feel a little bit obliged - I felt indebted to him."
He added that Muldoon had told him "I was more like a son than his son".
"I was excited, it was quite a good customer," he said.
The prosecution allege Bell later became Muldoon's UK partner, recruiting directors to bogus companies which conned 14,000 people in the UK to pay upfront fees for bogus debt elimination schemes.
Five on trial
Others paid fees to become escorts on non-sexual dates.
Five people are on trial and all deny conspiracy to defraud.
Christopher Taylor, 57, from Wakefield, a former detective with West Yorkshire Police, is alleged to have allowed his company bank account to be used to launder criminal proceeds of the fraud.
Colin Samuels, 61, from Redgrave, Suffolk, is alleged to be the "front man" who allowed his bank account to be used to launder money.
The prosecution said Bradley Rogers, 29, from Malaga, was Muldoon's lieutenant who received £715,000 into his account.
Geraldine French, 60, who lived in Spain and also has links in Suffolk, acted as the administrator and was "at the forefront of the deception", the prosecution said.
The trial continues.