Felixstowe coastal defence work resumes
14 May 2013

From the section

Suffolk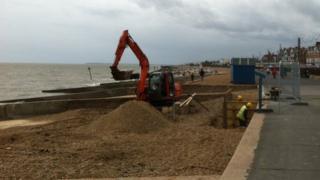 Work has resumed on the final section of beach defence work in Felixstowe.
Concrete groynes are being repaired on either side of the town's pier and they should be completed by mid-June.
Suffolk Coastal District Council said groynes which had been completed earlier this year were preserving shingle and sand.
The council said the latest repairs are in addition to the £10m scheme further along the beach which was finished last year.
Work was paused before Easter when the bad weather returned.
Councillor Andy Smith, who has responsibility for coastal management, said: "Some of the groynes look a bit toothless, so we're filling in the gaps with concrete down to the low water mark.
Ridge problem
"Recapping them with concrete works very well and the ones which have been completed are full of sand and shingle.
"The central scheme was finished last year, so the whole of the frontage from Felixstowe Ferry down to Landguard has got modern sea defences and that's something we're quite proud of."
Beach hut owners in front of the Spa Pavilion had expressed concerns after last year's work left a 3ft (0.9m) drop from the shingle the huts sit on to sandy beach below.
They said this ridge had not disappeared over winter.
The council said it still expected the beach to level-off over time although acknowledged it was a slow, natural process.