Ash dieback disease to be studied at Suffolk Wildlife Trust nature reserve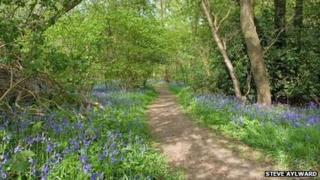 Genetic resistance to ash dieback disease is to be studied at a Suffolk Wildlife Trust (SWT) nature reserve.
Scientists from the Forestry Commission are using the site at Arger Fen and Spouse's Grove, near Sudbury, to study genetic resistance to the Chalara fungus - which causes the disease.
About 15 different strains of ash will be planted on the five acre site later this week.
The trust responded to a request from the Forestry Commission for sites.
It said it was keen to be involved with the study as its Hulback's Grove site was one of the first in the country to have confirmed cases of the disease.
The trial area will be fenced off to prevent deer grazing and will be monitored over the next five years.
It is believed a small percentage of ash trees could be resistant to the disease, so this research is vital in securing the next generation of ash.