Hundreds of fish found dead in Leiston park pond
9 May 2013

From the section

Suffolk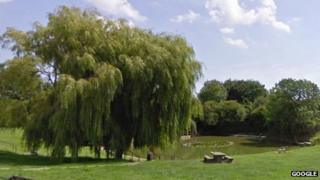 Hundreds of fish have been found dead in a pond maintained by a youth group in Suffolk.
A man walking his dog through a park off Haylings Grove, Leiston, made the discovery on Monday.
The Environment Agency said about 400 fish had died in the pond, which is looked after by the Leiston Youth and Community Angling Society.
The group's secretary, Malcolm Briggs, said the cause of the deaths was unknown.
'Nothing untoward'
He said it was "disheartening" to have seen the fish, which were mostly young roach, on the surface of the pond.
"I've been told it could be parasites or bacteria which are always there with the fish and something has triggered them off," he said.
"These things do happen it was just unfortunate it was our turn."
Mr Briggs said there had been no signs of anything untoward on the pond the day before.
The Environment Agency said it believed the deaths were not caused by pollution.
"Our investigating officers who went to the pond could not see any outward signs of disease, and the fact that all died in a close period of time suggests that was not the case," a spokesperson said.
"It could be that there was a temporary dip in oxygen levels, which is not uncommon at this time of year.
"As the water gets warmer the fish are also spawning, which could affect their health.
"However, as there is no suggestion of problems in the water or disease of the remaining fish, we are not actively investigating."