Ipswich Old Cattle Market bus station to get revamp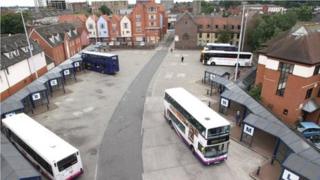 A bus station in Ipswich is being revamped as part of a £21m scheme to improve transport in the town.
Work starts on 7 May at the Old Cattle Market bus station and will mean the station's bus stops will be closed temporarily and relocated.
A temporary bus station office will be opened nearby in the Buttermarket shopping centre.
The revamp includes new information boards, improved shelters, forecourt and footways and better lighting.
Clive Wilkinson, Suffolk County Council's Travel Ipswich project manager, said the £700,000 of improvements would make it a more welcoming and user-friendly and encourage more people to use public transport.
"This is only one part of the much wider programme of works being carried out across the town - which includes improvements to Tower Ramparts bus station, the installation of a sophisticated traffic management system to make traffic flow better and the creation of new cycle routes," he said.